OTTAWA (CANADA) / LONDON (UK). Human rights and environmental campaigners from Malaysia, Canada, the United Kingdom and Switzerland have today protested against corruption in front of property companies associated with the family of Abdul Taib Mahmud ("Taib"), the Chief Minister of the Malaysian state of Sarawak. The protests took place in front of Sakto Corporation in Ottawa and Ridgeford Properties Ltd in central London.
The Canadian and British governments are being asked to freeze the assets of nine Taib-associated companies in Canada and two companies in the UK which are estimated to be worth hundreds of millions of US dollars.
Protesters in front of Jamilah Taib's house at 688 Manor Avenue, Rockcliffe, Canada, the second most expensive private home in the Ottawa region. Jamilah is the daughter of the Sarawak Chief Minister, Abdul Taib Mahmud, and a major shareholder of Cahuya Mata Sarawak (CMS), the Malaysian state's largest private company. CMS is being regularly awarded huge government construction contracts wihtout public tender. The company has also a 15-year contract for road maintenance of all of the state's public roads.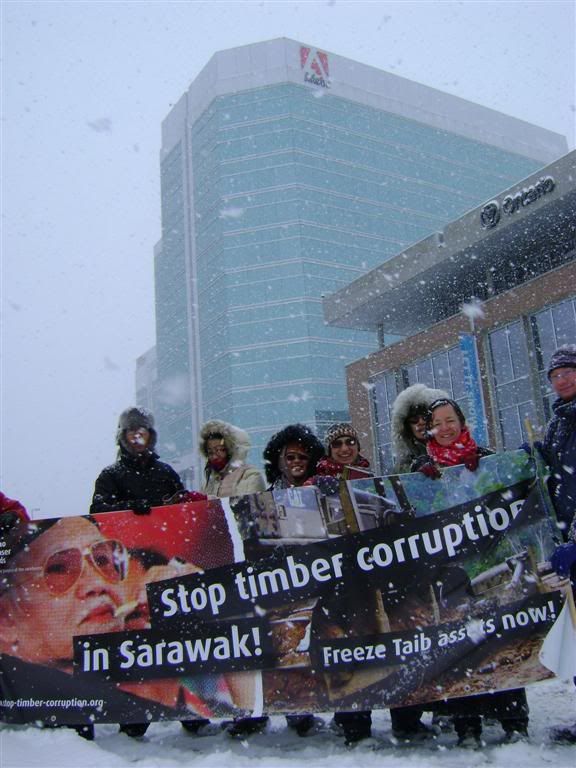 Protesters in front of the Adobe Tower at Sakto's Preston Square development in Ottawa. Suite 910, 333 Preston Street is the administrative centre of Taib-linked property companies in the UK, Canada, Australia and the US. The company is being chaired by Jamilah Taib's husband, Sean Murray, (Abdul Taib Mahmud's son-in-law) who sits on the board of various Taib companies.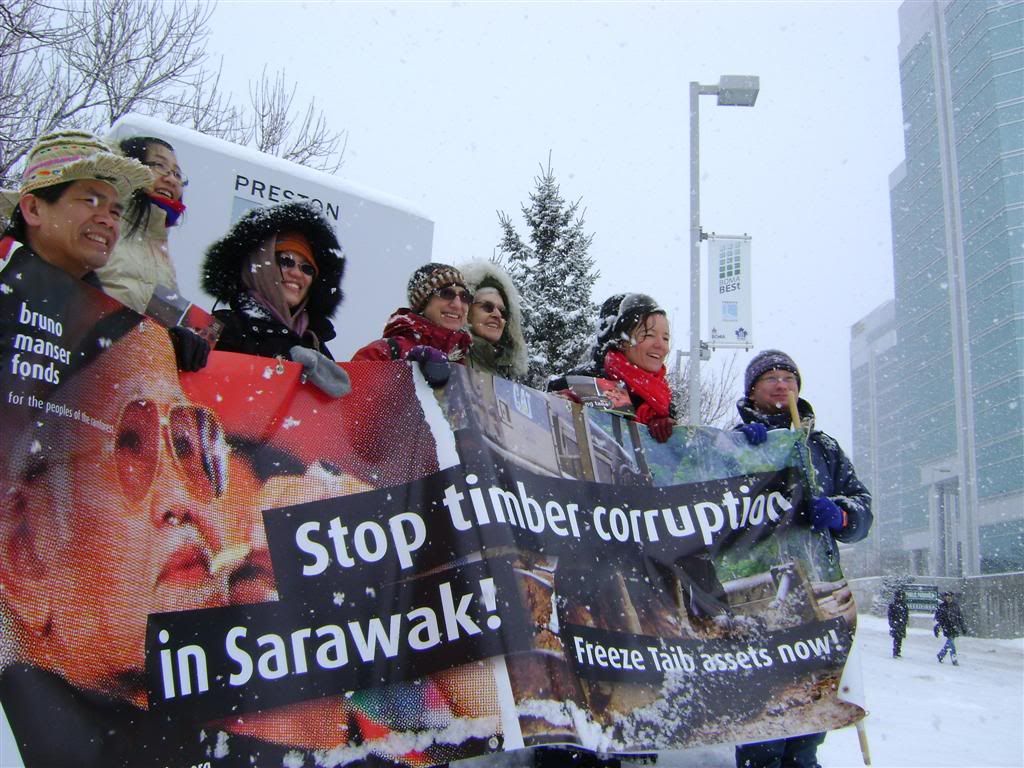 Protestors at Preston Square, Ottawa, Canada, the headquarters of Sakto corporation. Sakto was founded in 1983 by Onn Mahmud, the brother of Sarawak Chief Minister Abdul Taib Mahmud. Onn Mahmud's Malaysian company, Achi Jaya holdings, holds a monopoly over all timber exports from Sarawak. In 2007, Tokyo tax authorities found out that Onn Mahmud had set up a kickbacks scheme operating through Hong Kong. All Japanese shipping companies who wanted to export timber from Sarawak to Japan had to pay kickbacks to Onn Mahmud's Hong Kong agent.
Protestors in front of Ridgeford Properties Ltd at 10 Weymouth Street in central London. Ridgeford Properties is a wholly-owned subisiary of the Canadian Citygate International Ltd which is being directed by Jamilah Taib and her Canadian husband, Sean Murray.
Protesters in front of Ridgeford Properties Ltd at 10 Weymouth St, London. In the centre, you can recognize "Papa Orang Utan" (Peter John Jaban), the DJ of Sarawak's independent radio station, Radio Free Sarawak.
The Canadian companies blacklisted by the Swiss Bruno Manser Fund as being associated with the Taib family are Adelaide Ottawa Corporation (Business number 2028546); City Gate International Corporation (446027-8); Glowell Development Corporation (1545868); Preston Building Holding Corporation (2108122), Sakto Development Corporation Pte. Ltd.
(155207-4), Sakto Corporation (340439-1), Sakto Management Services Corporation (655948-4), Tower One Holding Corporation (2028542), Tower Two Holding Corporation (2018543). The British companies named on the Taib family assets blacklist are Ridgeford Properties Ltd (3268801) and Ridgeford Consulting Ltd (5572163). Ridgeford Properties Ltd is a wholly-owned subsidiary of the Canadian City Gate International Corporation.
The Bruno Manser Fund also disclosed that it had lodged a detailed complaint with Jeanne M. Flemming, Director of Canada's Financial Transactions and Reports Analysis Centre (FINTRAC), in June 2010 already. Hitherto, FINTRAC has left the complaint unanswered. Earlier this week, the Bruno Manser Fund criticized the Canadian authorities for their close business ties with Taib-family companies. No less than eleven Ontario Government Ministries are occupying offices at Sakto's Preston Square Tower III in Ottawa.
Abdul Taib Mahmud has been Chief Minister, Finance Minister and State Planning and Resources Minister of the Malaysian state of Sarawak since 1981. He has abused his political power in a spectacular way for personal gains and has managed to turn the resource-rich state of Sarawak on Borneo into his own private estate. Taib has been particularly criticized for the destructive logging of hundreds of thousands of hectares of tropical rainforest and for the marginalization of the state's indigenous communities. Taib's fortune is estimated to be worth several billion US dollars.
The black list of Taib's secret foreign assets

The following companies are, or have been, closely linked to the family of Abdul Taib Mahmud ("Taib"), who has been Chief Minister of Sarawak, Malaysia, since 1981.
Taib's ill-gotten foreign and domestic assets are estimated to be worth hundreds of millions, if not billions, of US dollars.

The Bruno Manser Fund and thousands of supporters around the globe are urging the authorities of the below-mentioned countries to investigate the financial transactions of the black-listed companies under their respective anti-corruption and anti-money-laundering legislations and to freeze all Taib family assets for later restitution to the people of Sarawak.

Australia: Australian Universities International Alumni Convention Pty Ltd (ACN: 081942903); Donmastry Pty Ltd (ACN: 093 907 843); Geneid Holdings Pty Ltd (ACN: 087759751); Golborne Pty Ltd. (ACN: 061844148); Golden Sovereign Development Ltd (ACN 103 925 613); Kesuma Holdings Pty Ltd. (ACN 105540636); Newtop Holdings Pty Ltd (ACN: 066588225); Ostgro Australia Pty Ltd (ACN: 094721070); Sitehost Pty Ltd (ACN: 062312743); Valentine on George Pty Ltd (ACN: 105541562)
British Virgin Islands: Astar Properties Ltd. (201522); CMS Global (BVI) Ltd.; Tess Investments Ltd (203511)

Canada: Adelaide Ottawa Corporation (2028546); City Gate International Corporation (446027-8); Glowell Development Corporation (1545868); Preston Building Holding Corporation (2108122), Sakto Development Corporation Pte. Ltd. (155207-4), Sakto Corporation (340439-1), Sakto Management Services Corporation (655948-4), Tower One Holding Corporation (2028542), Tower Two Holding Corporation (2018543)
Hong Kong: Grand Shine Trading Ltd (0127665); Grand Will Ltd (0133932); Herolite Investment Ltd (129119); Natalite Investment Ltd (129502); Regent Star Company Ltd (0130318); Richfold Investment Ltd (0130308); Whittaker Company Ltd (0161304)
Jersey: Sogo Holdings Ltd (43148)
Malaysia: Achi Jaya Holdings Sdn Bhd; Borsarmulu Resort Sdn Bhd (213014-M); Cahya Mata Sarawak Sdn Bhd (21076-T); K&N Kenanga Holdings Bhd; Kumpulan Parabena Sdn Bhd; Mesti Bersatu Sdn Bhd (758849-V); Naim Holdings Berhad (585467-M); Sanyan Group; Sarawak Aluminium Company (783974-K); Sarawak Energy Bhd.; Ta Ann Group; Titanium Management Sdn Bhd; UBG Berhad (240931-X)
United Kingdom: Ridgeford Consulting Ltd (5572163); Ridgeford Properties Ltd (3268801)
USA: Sakti International Corporation Inc.; Wallysons Inc (the owner of the FBI building in Seattle!); W.A. Boylston Inc; W.A.Everett Inc.

This list has been established on 21 February 2011 and will be regularly updated.

For more information, please consult our campaign site www.stop-timber-corruption.org